Strava
Why We Run
Project Type
Contributions
The Brief
In the lead-up to marathon season, Strava (the world's largest sports participation platform) asked us to expand its relevance among runners. 
The Spark
Every runner's motivations are unique.
Understanding what truly drives us is the key to staying motivated on the track, the trail—and the marathon route.
With access to such a large group of avid runners, we saw that Strava was uniquely positioned to conduct research on the factors that motivate people to start running and to continue with the sport.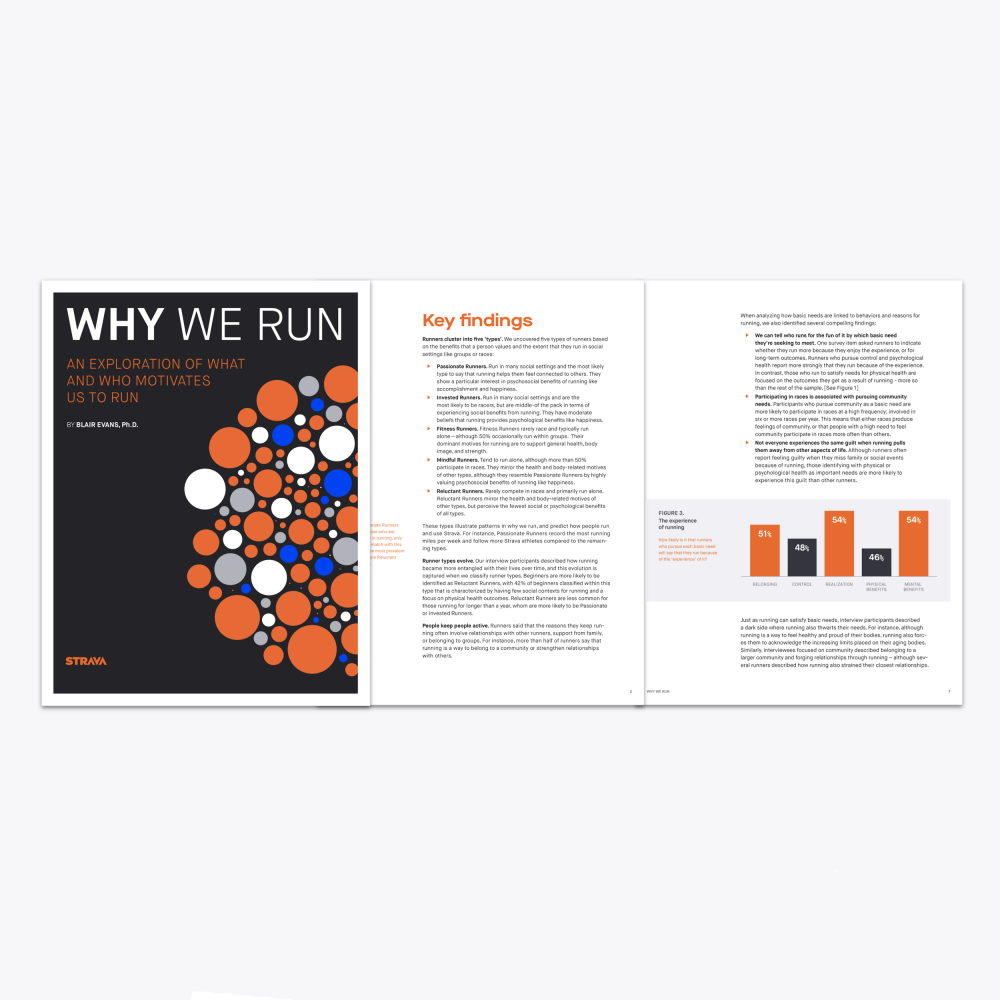 The Work
To engage with the running community in a way that only Strava could, we reached over 25,000 runners with a global in-product survey. An expert panel of researchers, coaches, and social scientists analyzed responses from 9 countries in North America, South America, Asia, and Europe.
The study resulted in a consumer-facing microsite with personalized data visualization, a series of podcasts, and a white paper authored by Blair Evans, Ph.D., Asst. Professor of Kinesiology, at Penn State University — all deepening our understanding of what motivates us to go that extra mile.
The interactive site remains a resource for the global running community.
The campaign was shared widely on social and netted mentions in Tier 1 outlets like Reuters, The New York Times, Runners World, Vice, and Bustle, along with major media in Japan, Spain, and France. Overall, Strava landed 150+ press pieces.
"Fitness app Strava finds a love-hate relationship with running."
- The New York Times
We shared the results of our qualitative and quantitative study in a consumer-facing microsite featuring personalized data visualization.
QUALITATIVE INTERVIEWS
We organized a series of three-hour, one-on-one interviews with 24 runners. The respondents were men and women from either the United States or the United Kingdom.
QUANTITATIVE SURVEY
Strava administered an online survey to 25,000 of its users, who were invited via email and the Strava app. Respondents were drawn from nine markets — Australia, Brazil, Britain, Canada, France, Germany, Japan, Spain, and the U.S.
The survey consisted of over 50 open-ended and multiple-choice questions about the drivers of running motivation. The data derived from the survey would serve as the basis for most of the interactive data viz on the microsite.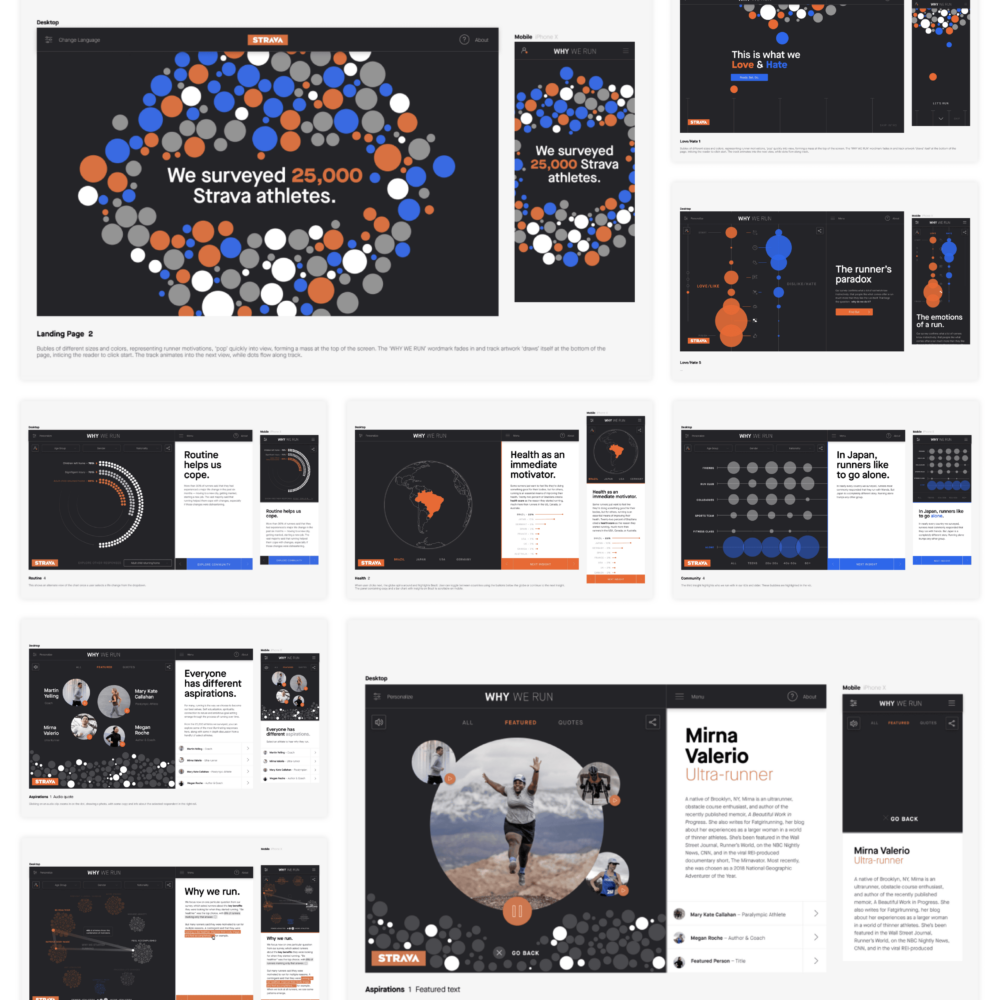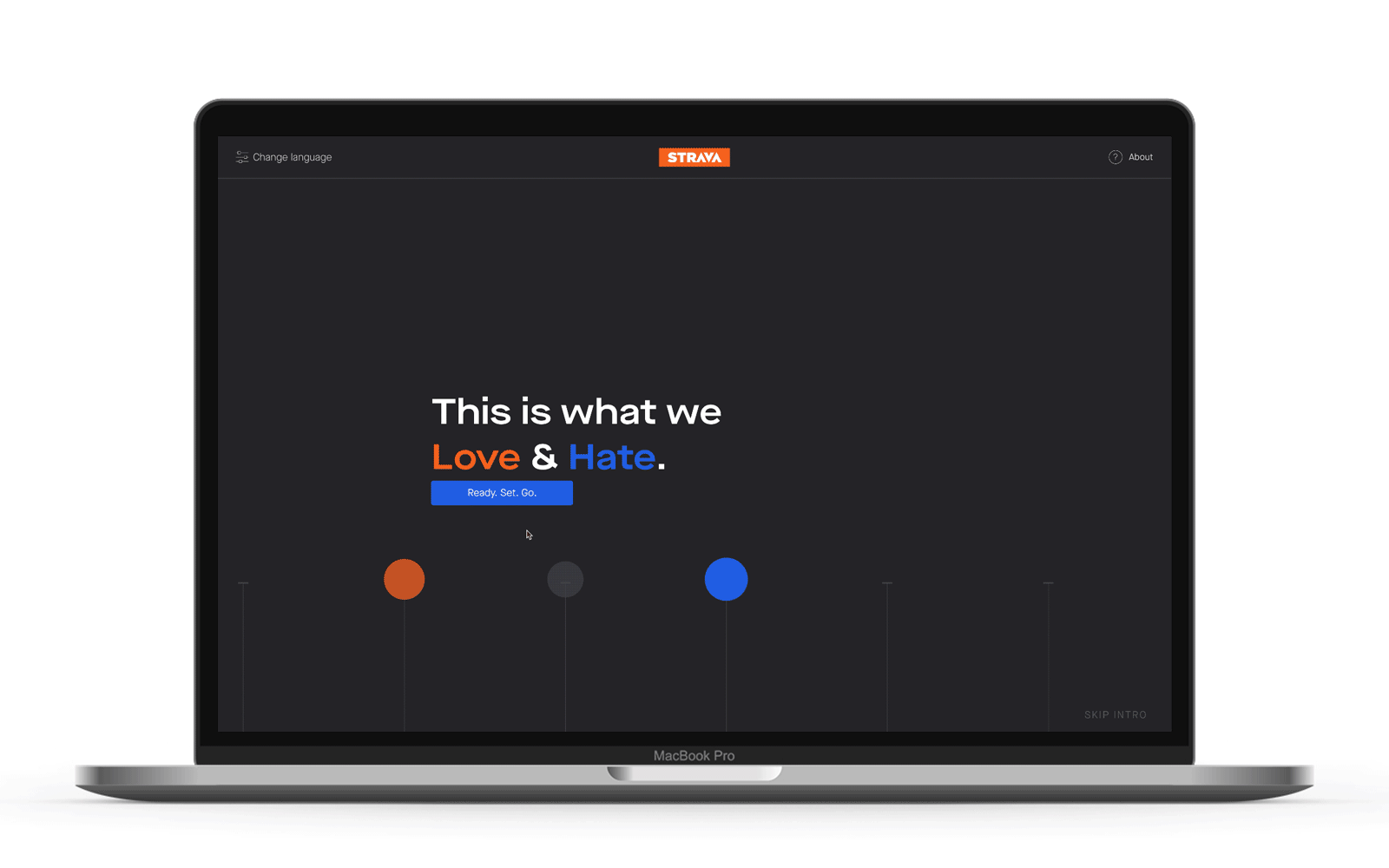 The sentiment on our social channels was incredibly positive… [W]e saw 99% positive engagement on owned channels and really thoughtful reactions on Twitter.
- ANNIE VRANIZAN, DIRECTOR OF GLOBAL MARKETING FOR STRAVA